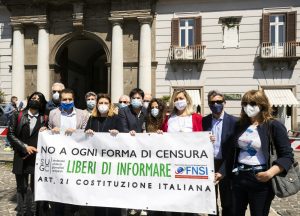 From Bari to Florence, from Potenza to Aosta, Milan, Naples, Genoa, Trento, Verona and more. After the mobilization of Rome, on May 20, the journalists of the regional associations federated in the Fnsi returned to the streets in the main cities of Italy to ask the institutions for a pact to fully implement Article 21 of the Constitution, to defend the freedom of press, to protect the independence of the category and the dignity of work of those who every day, amidst a thousand difficulties, strive to ensure that citizens receive timely, reliable, complete and plural information, in compliance with the right to be informed guaranteed by the Constitution.
In Naples, for example, the Unified Union of Journalists of Campania organized a flash mob with the board of directors that was convened in Piazza del Plebiscito and handed over the document with the proposals of the Fnsi to the Prefect Marco Valentini.
"We want the government to take care of the information dispute. In Italy we only talk about it when it comes to cutting funds for pluralism. To address the issue of prison for journalists, from Campania itself, we had to turn to the Constitutional Court – says the secretary of the LDSC, Claudio Silvestri – It is clear that in this country, freedom of the press is not an issue on the agenda " .
«Those who decide to do this job in Italy today risk too much: precarious work, judicial compensation, personal security. For politics, newspapers are good when they investigate their opponents and are very bad when they deal with friends and for this reason they are always and in any case a target. We work without a parachute – said the national councilor of the FNSI Gerardo Ausiello – A free press is a guarantee for democracy and freedom for all. This is not a corporate battle ».